A campaign launch caught my attention last week. The Royal Society for Public Health's Scroll Free September – a campaign to give up all, or selected elements of personal social media accounts. I know I probably spend too much time on Facebook and dabble occasionally with Twitter and Instagram. My initial thought was "What if something happens and I need information from my networks on social media?" I then quickly realised that the world wouldn't stop spinning and if I needed to, there are other ways to get information and get in touch. I have therefore taken the pledge and gone cold turkey ditching the apps on my phone and tablet. Not before I shared the campaign details on Facebook though.
Now that I am free of scrolling and getting immersed in my friend's holiday pictures, shared news stories and endless kitten and cooking videos, it has given me time to consider the "What if something happens?" question in a broader context. More specifically, the role of social media in a crisis. We often first learn of a disaster though social media as those bearing witness to events posts videos and images. At the same time, the Emergency Services attending these incidents are using social media to provide early confirmation of an incident and to provide rapid and relevant public safety advisories. The London Metropolitan Police tweeted confirmation of the Westminster Bridge attack last year just twelve minutes after receiving the first reports of the incident: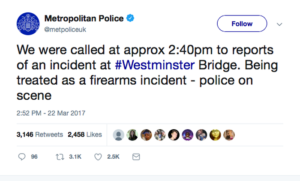 Forget the golden hour. Best practice now is to get a social media post published within 15 minutes. This is when social media is a force for good during a crisis or life-threatening emergency. Global crisis communications expert Donald Steel, who has worked with many emergency services on some very tragic incidents has seen how the emergence of social media as a force for good where public safety is an issue:
"The use of social media as a tool for safety advice, information, reassurance and tracing people far outweighs the negative aspects in a crisis. We must learn to use it better."
Conversely, social media can also be mis-used, with uncorroborated information, rumour and anxiety relayed in a tweet, status update or image vaguely connected to the incident. The most well know was during the Oxford Circus gunshot scare last November. Singer Olly Murs was one of many who tweeted rumours of gunshots being heard around Oxford Circus: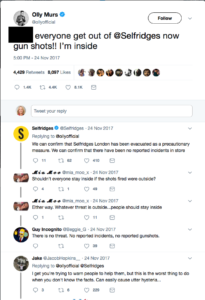 He later faced heavy criticism for helping to cause panic due to his following. Also, he was in Selfridges, nearly a mile from Oxford Circus. The Met Police later confirmed they hadn't found "any trace of any suspects, evidence of shots fired or casualties".
Social media is also a force for consumers who are unhappy with products and services and this too can spread mis-information if not caught and addressed early. If handled badly, what may initially be a consumer issue can turn into a corporate crisis and have an adverse effect on reputation and revenue. At the same time, organisations can use social media to get important information out to consumers on matters of public safety, for example product recalls and alterations to public transport services.
So, can we live scroll free during a crisis? Probably not. Its use is so widespread and there is a mutual dependency on these channels when there is an urgent requirement to get information shared. How long this is sustainable for is the broader question. Social media bosses have had a tough time lately defending their platforms. Facebook has weathered several storms, including data breaches and fake accounts. Both Twitter and Facebook are also accused of doing little to manage the growth and removal of fake news. The news this morning that their share prices have dipped is now another fire they are fighting. This follows their CEO's defending their companies against accusations of failure to address foreign interference in the US elections.
All of this of course has had an impact on public confidence. Last year, the Edelman Trust Barometer revealed a trend of increasing credibility in traditional media and journalism, with a drop in trust in social media platforms. Traditional news outlets are re-emerging as a more trusted source of information. Whatever they may think of journalists, the public are returning to reading, listening or watching what they report as a solid source of trusted information. Now is a good time to review crisis communications protocols, plans and procedures and review the use of social media. Maintaining trust is key managing the uncertainty that is part of crisis management.
As for me? I am living without social media without suffering my own personal social media crisis. I am enjoying the extra time this is giving me and using it wisely. Unless my flight is delayed or I am caught up on something unpleasant, I may just scroll out for good.
Further Reading:
Campaign details for Scroll Free September