Last week Sheena Thomson Consulting launched the Business Risk Tracker research project examining the risks and challenges facing business and organisational leaders in this time of heightened uncertainty and challenges.  This research project is in partnership with The Pulse Business and the University of Brighton, the Rise programme and Sussex Innovation.
The first part of the Business Risk Tracker project was a short, two-question Pulse survey, sent out last week to a wide cross-section of business and organisational leaders across the UK and beyond – around 500 organisations. The response rate and engagement have been excellent, providing us with some insightful data and comments from the participants. My thanks to all who took the time to respond.
The questions:
On the current economic uncertainty, what are the top risks that you're facing?
How are you addressing these challenges?
The results: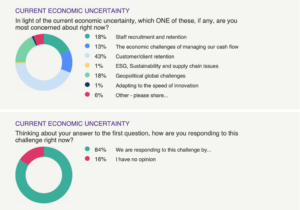 Unsurprisingly, most participants are worried about client and customer retention as economies around the world face significant and multiple challenges.  This was closely followed by staff recruitment and retention, and geopolitical challenges.  The latter are new to the extent we are experiencing them at the moment, largely due to the cumulative follow-on effects of Brexit, the pandemic and the Ukraine/Russia war, and their direct impact on our economies.
Often when there is economic uncertainty, internal costs are scrutinised, and prices are reviewed. This is coming out loud and clear in many of the comments made by the Pulse survey participants:
On customer/client retention:
"We know that customers are concerned about all the issues mentioned here and are thinking carefully about any spending choices. Fear for the future, on top of immediate pressure of inflation and energy costs, means they're cutting back significantly."  Board Advisor/NED
"I run a trade association for a sector whose overwhelming concern at the moment is finding ways just to keep the doors open.  They are cutting out all non-essential expenditure, and even those who recognise the value of their membership say they have to focus on paying the bills, the staff and the suppliers." CEO, Trade Association.
A snapshot of how participants are responding to the challenges presented in the Pulse:
"Increasing customer contact and business development activity with competitive pricing plans." 
"Managing our cost base but increasing digital marketing spend."
"Building as much flexibility into our business as possible."
"Deferring some hires and renegotiating some key contract."
We asked a couple of experts what they thought of these initial results:
Richard Fogg, CEO at CCgroup PR, said:
"Client retention has to be a priority for any professional services business at all times, but especially during a period of economic uncertainty. Focussing on the areas of your service that you can influence, rather than worrying about a broader market environment you cannot control, is a critical factor for success.

We track our client satisfaction twice a year, which not only informs how we develop our service offering, but also means we have our fingers on the pulse in terms of overall client satisfaction."
Rebecca Whitney, Managing Director at executive search consultancy Whitney Murray, said:
 "It is not surprising that in a time of economic uncertainty organisations are struggling with recruitment and retention. It is a tight labour market with low unemployment and candidates reluctant to leave stable jobs.

With the cost of living rising, firms are struggling to find ways to retain their key staff that doesn't involve an increase in pay and benefits when their budgets are being squeezed.

We have seen a rise in paid and unpaid leave, secondments, and training and development opportunities to increase loyalty and retain staff."
Summary of first Pulse survey findings
Widespread concerns were expressed about client and customer retention
The geopolitical situation continues to challenge organisational risk mitigation
Costs are being scrutinised and cut where non-essential
Staff retention and key hires remain a concern, requiring a flexible approach
Business development, marketing efforts and supporting clients are key
Next steps
Qualitative research: This research data will now be analysed, while a qualitative online workshop with the University of Sussex is planned for the new year to examine these challenges further.
Quantitive research: The next Pulse survey will take place in approximately three months.  Thank you to those who participated in the latest survey.
If you would like to participate in either our planned one-hour online research workshops with the University of Sussex or future Pulse surveys, please contact sheena@sheenathomson.com
Full research results will be published at the end of the project later next year.
Our research project partners:
The Pulse Business:  www.thepulsebusiness.co.uk
University of Sussex School of Business and Law: www.brighton.ac.uk
Rise Innovation and Research:  www.rise-innovation.uk
Sussex Innovation:  www.sussexinnovation.co.uk