As the COVID-19 crisis and its consequences continue to unfold, we are seeing circumstances evolve that throw a spotlight on how resilient organisations are at safeguarding against what can negatively impact their reputation.
We saw an example of this last week on Twitter: a member of BBC News England staff posting a photograph of an online staff meeting where he and his team were being told their department was closing down and they were all losing their jobs.  It was the first time I had seen a shocked employee taking to social media as he was being told his fate.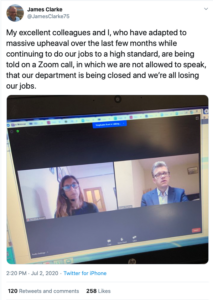 This is a very unfortunate scenario unfolding with many in the UK as the HM Government's furlough scheme begins to taper, and the human impact is clear to see. However well planned and sensitive survival restructuring plans are executed, robust reputation resilience must be continually reviewed and reinforced to ensure all people involved are appropriately supported and reputation risk is mitigated.
Issues and problems must be under constant review for potential reputational impact.  Ensuring there is access to free-flowing source of information is crucial. Information sources can take several forms:  board, executive and operational meetings; the risk register; line managers/staff meetings; water cooler talk; intranet; and social media.
It is also important to examine and understand the reputational risks and consequential impact of the identified and flagged issues:  the legal vs ethical debate and how you'll be judged outside of the organisation.  How will it impact trust and confidence in your organisation?  What are the consequences with third parties, and how will it impact wider stakeholders, i.e.  consumers/clients, shareholders, suppliers, contractors?
It is equally crucial to identify who else is involved in the problems and solutions and to ensure your position is clearly communicated.  Failure to do consider this puts the organisation at risk of rumour and speculation, derailing any carefully made plans.
People are often at the heart of issues and problems, especially during the COVID-19 crisis. When developing an issue-related narrative, messaging and how to communicate, it is critical to consider the mindset of the recipients.  Consider what emotional triggers are relevant: threat to life or health, home or property, or financial stability.
As a consequence of prolonged lockdown and uncertainty, commonly reported behavioural trends include anxiety, apathy, loss of productivity, frustration, anger, and irregular social activities and habits. It is also worth noting the 'keyboard warrior' syndrome when people, in the comfort of their own space, feel ten-feet-tall, have nothing to lose or are simply bored.  Further emerging post-COVID-19 trends are individual changes in social consciousness, shifted personal priorities, and levels of pessimism or optimism.
To increase levels of reputational resilience and mitigate the risks, it is worth reviewing the planning and policies checklist.  It is well worth reviewing and refreshing this, due to the evolving nature of the COVID-19 crisis and its unintended consequences, as the BBC employee tweet shows:
Risk register
Crisis communications plan
Dedicated or appointed comms lead (internal and external)
Media policy
Social media policy
IT policy
Non-disclosure/ terms and conditions of employment
Approvals process for messages and communications
The example from the BBC last week is very current and topical, highlighting the need to review both IT and social media protocols and policies.  As well as reputation risks, there are employee privacy issues to safeguard against, as the two members of staff in the image were named at the bottom of their screens.
When it comes to delivering approved messages and communications, considering the right platform can have a significant impact on how it is received.  Consider the mindset of the stakeholders and how the message is likely to be received when making your choice. Ask which is most appropriate – intranet, email, or livestream/video call.  Equally important to the success of delivery is having a full, clear, transparent, and legally approved set of FAQs, including the difficult ones.  Properly positioned and written in the appropriate tone, this can really help allay any anxiety.
Should the reputational risk be significant, consider bringing in external advisors as the next option.  Contingent on the sector and area of operations, experts in communications, public affairs and lobbying, subject matter/regulatory experts, change management and strategy can all help mitigate reputational risks. Intermediaries can also be of use, such as trade unions, specialist NGOs and trade associations, while legal counsel can offer and execute more detailed options under the relevant legislation.
Finally, when navigating an evolving landscape, make sure you look out for any unexpected pitfalls and take appropriate action to mitigate or manage damage control. Maintaining a pulse check on news, trends and opinions is also vital. As the greatest global uncertainty we have ever known unfolds in our day-to-day lives, it has never been more important to be resilient, review regularly and adjust all the management tools and frameworks that support respective organisations. It is a continuous process.
BBC News job cuts story:
https://www.bbc.co.uk/news/entertainment-arts-53263793
Tweet featuring BBC News England department re-structuring announcement Zoom meeting:
https://twitter.com/JamesClarke75/status/1278679827067830272
Photo Credit:  Pelipe Pelaquim, UnSplash